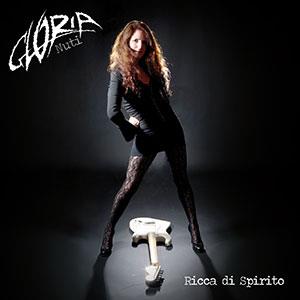 Gloria Nuti is an Italian-bred London songwriter who just released her newest album in October 2012, titled Ricca Di Spirito. Rich in Spirit was recorded over the past three years in Nashville, London, New York and Italy with a cast of impressive musicians.
Gloria's no stranger to music. She had her first taste of success in 1994 when she cowrote the song "Il Mare Calmo Della Sera" with internationally acclaimed, multiplatinum singer, Zucchero. The song went to become a massive hit single performed by opera sensation Andrea Bocelli, appearing not only on his debut album but also on both of his greatest hits releases as well.
Over the course of her career Gloria has been in no less than seven bands, 3 of which were signed to major labels, in addition to her debut solo album on RCA.
No longer controlled by a label or contract, Gloria's new independently released album is the album her fans have been clamoring for. It's the first album where she finally feels truly herself and at home with.
Ricca Di Spirito highlights Gloria's powerful and versatile, blues-infected voice
alongside a powerful collection of current and classic rocking tracks. Backed by some killer players and fantastic studio production, Rich In Sprit includes a driving new version of the song Bocelli had a hit with, made all the better by a blistering guitar solo.
The album also features a heavy, groovy cover of One Last Soul by Black Country Communion. The album also features a diverse selection of eight other new, originally penned songs.
Tracks:
1 – IL LUPO PERDE IL PELO
2 – SONO ANEMICA
3 – RICCA DI SPIRITO
4 – IL MARE CALMO DELLA SERA*
5 – È MIA
6 – VERO AMORE**
7 – INSEGNAMI L'AMORE
8 – LA DONNA CHE VUOI*** (ONE LAST SOUL) (Tribute to BLACK COUNTRY COMMUNION)
9 – IL MEGLIO DI TE****
10 – METAFORA DELLA SENSUALITÀ
11 – UN'ALTRA BIRRA*****Lyrics & Music by Gloria Nuti
*GloriaNuti-Zucchero-G.Felisatti ©SugarS.r.l. Zucchero&FornaciariMusicS.r.l.
**Produced by SteveConte
***GlennHughes-JoeBonamassa J&R Adventures/Mascot Music Productions&PublishingBV
****TheParadoxicalCommandments by Dr.KentM.Keith ©Copyright KentM.Keith1968, renewed 2001
*****GloriaNuti-IvanCammelliSTUDIOMIX
Production and Arrangements:
Gloria Nuti, Marzio Benelli e Giulio Cercato
Recorded at:
STUDIO EMME RECORDING Calenzano FIRENZE IT
SONIC BOOM STUDIO Raritan NJ 08869 US
MANICDRUMS STUDIO Nashville TN US
RAK STUDIO LONDON NW8 7BU UK
STUDIO CAMMELLI Sesto Fiorentino FIRENZE IT
Mixed & Mastered by:
Wes Maebe at SONIC CUISINE London UK
Translation:
Tom Osborn
Photo:
Emma Innocenti
Graphic:
kane.it
Studioemmerecording SER Music all right reserved
Guitars:
Gloria Nuti, Giulio Cercato, Steve Conte, Anthony Krizan, John Jorgenson, Greg Foresman, Ivan Cammelli.
Electric Piano:
Francesco Nigi.
Percussion:
Hugh Wilkinson.
Bass:
Mark Prentice, Renato Valenti, Hamish Stuart, Mirko Verrengia, Lance Hoppen, Todd Lanka.
Drums:
Charlie Morgan, Andy Newmark, John Hummel.