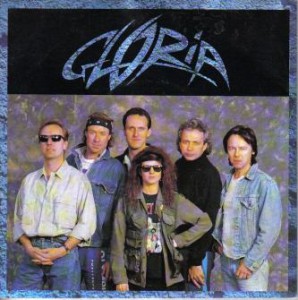 GLORIA NUTI
"Bastardo"
Festival di Sanremo 1989
Songwriter from Tuscany, Gloria teen-ager first began, playing guitar and flute performing assiduously.
1981 Castrocaro Festival with Zucchero, Eros Ramazzotti, Fiordaliso, Stefano Sani, Roberto Tomasi among others.
1982 Records an LP for RCA with a band called VIDEO (never published).
1985 She began her solo career on an Eurovision program "Disco per l'Estate di St.Vincent" performing "Le Donne Italiane" RCA, recorded in collaboration with Goblin, produced by Franco Migliacci & Rodolfo Bianchi.
1986 Had been working with Marco Masini.
1988 She signs with Polygram and records an album between Italy and England produced by Maurizio Fabrizio. Charlie Morgan (Elton John's drummer) formed a band for her with the mythic guitarist from Colosseum Clem Clempson, David Paton bass, Mark McMillen keyboards.
1989 Sanremo Festival, she sings "Bastardo" written together with Roberto Casini.
Filmed a video-clip in Sydney.
Tour with Stefano Xotta "Sebo" & Steve Rogers Band.
Disagreements between producer and Polygram interrupted the distribution of the record drastically.
1990 Soka Gakkai International
1991 Bussoladomani with Renato Zero.
1993 She writes for Angelo Branduardi and Ladri di Biciclette.
1994 She writes "Il Mare Calmo Della Sera" with Zucchero and G.Felisatti for Andrea Bocelli winner at Sanremo Festival. "Il Mare Calmo Della Sera" it is now published around the world in several Greatest Hits CDs.
1995 Move to London. She experienced working in the films industry. Works for Rainer Grupe e Ariane L.Moody, "Gorilla Entertainment" during the post-production of "Buffalo Soldiers". Her creativity leads her to work on props of several TV studios, advertisements and film like "Alexander" by Oliver Stone.
Tracks:
1. Amore Platonico
2. Dio ed Io
3. Molto, Troppo di Più
4. Affinità
5. La Moglie
6. Bastardo
7. Sexy per Te
8. Odio L'Inverno
9. Vita Vera
10. Signor Dentista
Production and Arrangements:
Produzione:MAURIZIO FABRIZIO & MICHELE DEL VECCHIO
Arrangiamenti:M.FABRIZIO
Arrangiamenti Fiati:S.SIDWELL
CHARLIE MORGAN batteria
DAVID PATON basso
CLEM CLEMSON chitarra
MARK MC.MILLEN keyboards
CHRIS WHITE sax
STEVE SIDWELL tromba
PAUL SPOND tromba
NEIL SIDWELL trombone
JODY LINSCOTT percussioni
Registrato a RECCO STUDIO MULINETTI
MARCO CANEPA fonico
LONDON AIR RECORDING STUDIOS
STUART BREED engeneer
ABBEY ROAD STUDIOS cut
STEVE ROOKE engeneer
All songs written by
GLORIA NUTI